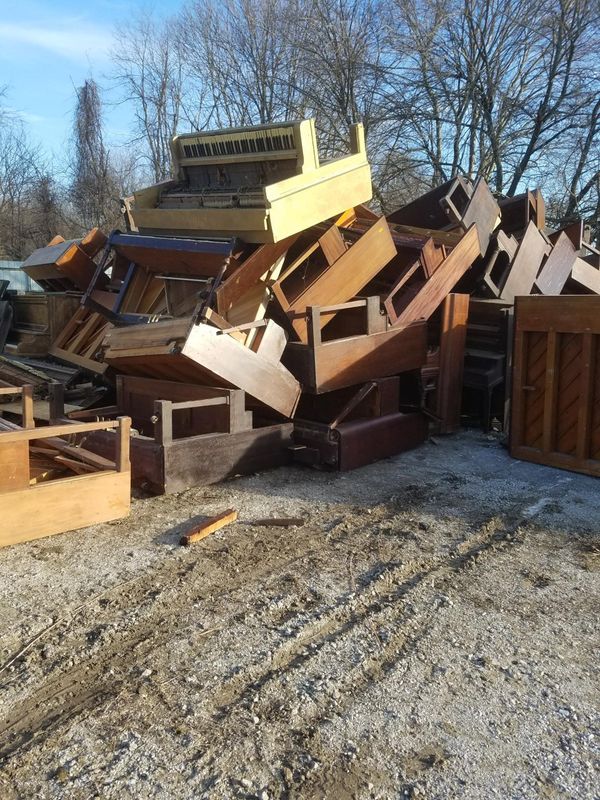 Please call or text (615) 425-6238
Welcome to the Nashville Piano Rescue home page. Here is a description on what we offer.  Piano recycling, we have soundboard wood for guitar builders as well as all kinds of other 100+ year old hardwoods for other projects, Iron plates for gates. Vintage large wood screws and other hardware.  We source pianos from all over the US, we fix up the instruments that are fixable but some of the older pianos just cannot be saved.
 Why is Nashville Piano Rescue located in Kentucky? Well, we are barely over the TN state line or approximately 45 minutes from Nashville airport. Overhead is the main reason. Commercial rents in Nashville are not sustainable. The mission statement of NPR is to provide musical value to customers and that cannot be done renting space in Nashville.  Also, there is a safety issue, and we want the customers and their vehicles to be safe when looking at our inventory.
We are in the process of building a new space that will have a very large showroom on our property in Scottsville KY. Once completed we will post all of our products on the website but for now there is a small sampling on the pianos for sale tab.
All sales include local ground floor delivery within the Nashville area, Tuning and 2-year parts and labor warranties.
Payment types accepted: Cash, Checks and Cashier's checks if the item is over 3000.00.  We accept Zelle but no cash apps. We've been burned too many times on credit card related fraud.  If you want to use your credit card you can get a cash advance check on it and still get points.
Warranty update:  We include a realistic 2-year warranty on everything we sell for parts and labor.  Some of the others have longer warranties but in the current market how do you know that business will be around then.
Free Pickup of unwanted pianos however we are VERY selective on what we pick up.  We do no pickups from any second-floor locations.  If you have more than 5 steps and we cannot get a truck in there and put a ramp on the porch, then you need to get it to ground level yourself.   Pianos can be picked up at no cost to you within a certain radius of Nashville TN we will go further if it's something we think we can use.
Military and Senior Discounts on purchases We will be offering 10 % off to service members either active or veterans as well as any seniors.
What is for sale; Please visit the various tabs on the website.   We of course have hand selected pianos that we mainly get from midwestern states.  We have custom furniture that is all handmade in Nashville, we have midcentury styled pianos and we from time to time have parts for artists. 
Thank you for visiting and if you need a question answered please use the contact us form. Be sure to check your spam filter for replies.
See a Painted piano get refinished