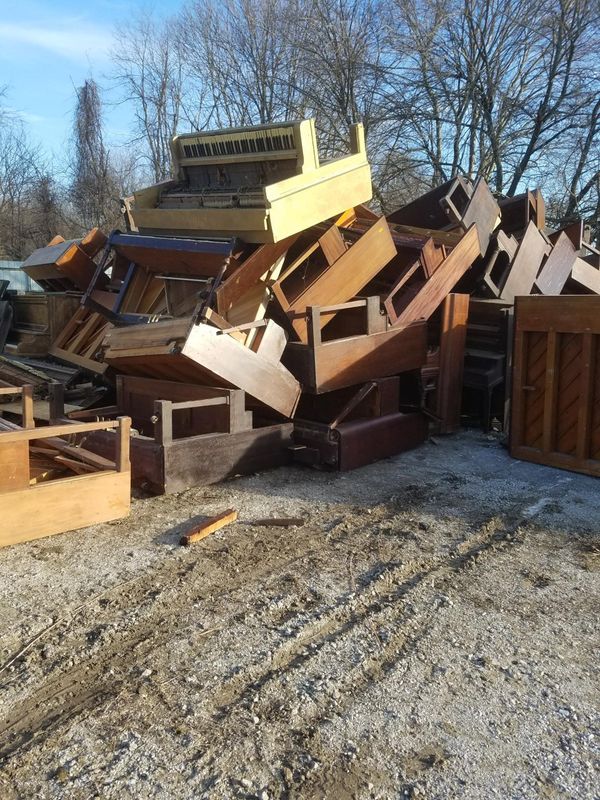 Please call or text (615) 425-6238
Welcome to the newly updated home page of Nashville Piano Rescue. First as an introduction everything you see here, all the work the pick-ups, the service, refurbishments, recycling and basic operations are entirely done by one person. I use a dedicated helper when doing piano moves and the heavier pick-ups that require two people.
This business was created due to the need of removing unwanted pianos and the difficulty of what to do with them after. I have 48 years in the professional high value products moving field as well as refinishing and mechanical work.
Nashville Piano Rescue moved from Nashville TN to Scottsville Kentucky in 2017 due to insane rental rates in Nashville. You cannot make deals with customers when the rent is in the 30k a month range. We are now 47 miles from Nashville and in town a few times a week doing moves / deliveries. Occasionally in the nicer weather we set our inventory up at shows in Nashville but for the most part you will have to come here to see the inventory in person. This is the zero overhead zone so we can make all kinds of deals.
Types of work that I do are of course piano moving (no second floors unless there is an elevator) various types of refinishing either pianos or other items. Piano recycling, I have screws, bolts, hardware, pedals, used piano harps, wire, copper wound wire, piano keys, actions etc for projects as well as used veneer and hardwood. Used soundboards, pinblocks and maple for bridge making of other instruments.  I do not sell used Ivory.
Used Pianos: I do have used pianos for sale and I go over each one that comes in. The ratio of bad to good is about 10 :1. So, in other words, this is a lot of work. I take in 10 bad pianos that have to be scrapped to about one good one. 
Currently I have 20 something pianos or so on the for-sale page but I have closer to 300 something that could be sold if I had a space to show them including all the grand pianos. Best thing to do is if you see something on the site call and ask before using the pay button. Any google searches may lead you to an old listing that is long gone. So again, call first.
Online reviews:  Yes, I have some negative online reviews. After doing this for years and being exposed to the Nashville music industry scammers I don't take much (enter bad word here) which is another reason why I listened directly to those customers that have been with us since the beginning and got rid of all the employees and apprentices. We had nothing but trouble with trying to instruct employees that took all the time from everything else. Not to mention going back and contacting hundreds of customers for piano re-tunings because the subcontract tuner wasn't tuning their pianos or double billing us for no work.  I also have a list of people in the music industry I will work with and there are some that I won't work with so that comes into play as well.
Bottom line is there have been thousands of customers over the years so having a handful of bad reviews is normal overall.
Old School business routine here.  The facebook page is Nashville Piano Rescue II. I no longer do instagram. I don't do videos of the pianos being played because I really don't have time to do that. If you want to send someone to do it then fine. I can provide additional photos if the piano is accessible. I have a lot in storage that are not. Latest inventory is posted to FB 12 hours prior to this website. A lot of it is sold before it ever lands on the for sale tab.
Senior and Service member discounts are 15% on anything that is for sale. 
There is no charge on piano pick-ups but again due to space I am very picky on what I pick up. Best thing to do is just text a photo to me directly 615 425 6238 for consideration. I also pickup other interesting things too. Estate sale leftovers that are too big for the average vehicle and so on.
Please visit some of the other website tabs for more detailed info.
See a Painted piano get refinished