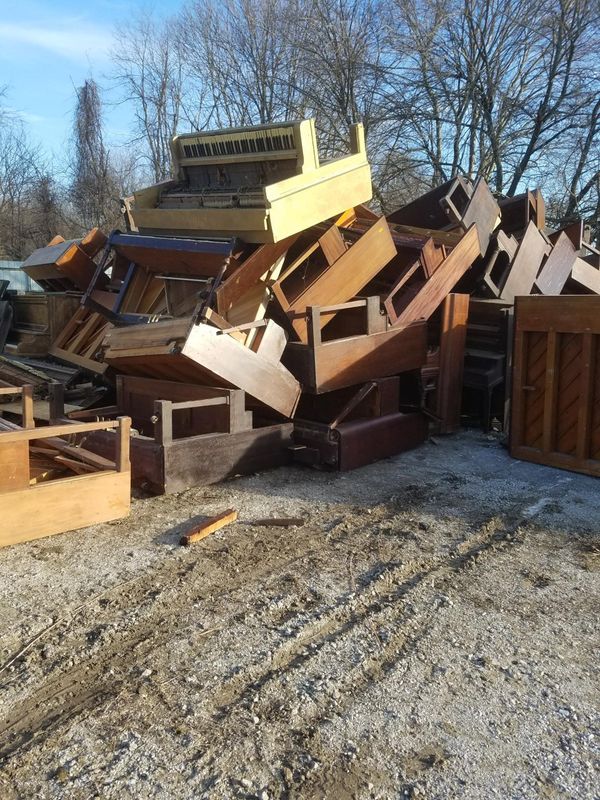 Please call or text (615) 425-6238
20% off sale begins Monday  10/23/2023 and runs through January 5th 2024.  You will have to email or text us so we can change the price on the website to reflect the discount. Website represents about 5% of what I have in the warehouse so if you don't see it you might want to text and ask if we have something.
Welcome to the Nashville Piano Rescue website. Services that we provide are of course used piano sales, refinishing of pianos and other items, used piano parts like hard-to-find hardware and screws, brackets and reclaimed hardwood as well as used soundboard material. All piano sales include local ground floor delivery, tuning and a two-year warranty on parts and labor.
Estate cleanouts: This is something we have been doing since 2002. We don't charge for the service as long as there are items we can use or repurpose. Basically, we come in and pickup what is left after an estate sale, or we can clean out an entire house including packing up items if you just don't want to deal with it. It's a ton of work so we get it.
Thrift Store Tab is where you will find vintage items, we pick up from various estate jobs and auctions we attend. The For Sale tab is where the pianos are listed.
Frequently asked questions: How does a piano pickup work?  First thing that happens is you either email from the contact us page, call or text. If you can text just add a couple photos. Stand back 10 feet or so and snap a picture with the key cover open. We will need to know what the egress from the house looks like, slopes, hills, steps things like that. 
Is there a place locally in Nashville where we can look at your inventory?  That depends on what item it is. We have had stores in the past in Nashville and the high rent doesn't cover the amount of people coming in. Let's face it pianos are not hamburgers. So, we follow the current market. Overhead is everything when it comes to retail sales. Sometimes we will have some inventory in a storage unit and other times it will be on the mobile showroom.
Mobile Showroom:  We now have a mobile showroom that cruises the Nashville TN area on weekends. Has a variety of pianos from 500 to 2800 onboard. We normally set up in the East Nashville area but can go to other areas if we can park.  For updates you can go to the Nashville Piano Rescue II facebook page or text for an appointment.
Discounts: We offer 15% Senior and Military discounts. This also applies to any moving expenses non piano related.
Other services:  We have a non-piano pick-up and delivery service which would be things you cannot get in your car. We also do piano moves; small business moves and small apartment type moves. Basically, you are hiring the truck and one or two guys. We have 40 claim free years in the moving industry with most of that being with North American Van Lines. We also do consulting work on moves so if you get stuck and have a question, we can help you figure it out. We can also pack boxes professionally. Plus, we do assembly work for things that need to be put together. Furniture and so on.
Online Reviews: We originally began as 100% family owned and then in 2014 or so we took on some employees that turned out to be a major mistake. It was like mopping up the rain daily which netted us a bunch of bad blood. Fastforward to 2023 and we are back to family only running the show. It might take longer but it will be done right.
Work radius: We service a radius of 50 miles from Nashville TN, but we also have a 50-mile radius of operation from Scottsville Kentucky as well. We occasionally will go to Ohio, Indiana and Michigan for piano pick-ups or a wider general radius for something interesting.
Just for fun:  Pianos are very heavy. If you want to gage weight by looking at something an upright weighs about 150 pounds per foot of height. Grands are similar to foot of length.
Inside stairwells:  Something to consider when doing lots of stairs should be weight calculation. You need to figure in your weight plus the piano weight in a space of 10 square feet. Outside staircases with concrete treads are notorious for snapping with pianos on them so always beware of that possibility.
See a Painted piano get refinished